DIY for the Dog Lover In You
How to Build a Dog Crate
That Doubles as an End-Table
by Ethan from One Project Closer

Hello Readers.
Trying something new this month. We stumbled upon a fantastic DIY product and we had to share. For all you dog lovers out there – how great is this?
Materials
For this project, I picked up some Maple 1x and a sheet of sanded plywood at the local Home Depot. One thing to remember (because initially I did not) is that Maple is a hardwood and will soak up stain much slower than a softwood. I'm pleased with the two-tone look of our dog crate. If you want something more uniform, try to buy all the same species of wood.
Here are the other materials I used to build this crate:
Kreg pocket hole screws (fine and course thread)
1/2″ wood dowel
Wood glue
Tapered legs (purchased off Etsy)
Round metal stair balusters
Plywood edge banding
12″ piano hinge
Wood stain
Building the Dog Crate
I started by cutting the bottom and back pieces to size from the sheet of plywood. I like to use painters tape especially for cuts across the grain to better prevent tear-out. If you know of other tips, share them in the comments! I sized this to fit the dog bed which is 18 x 30.
Next, I drilled pocket holes that would allow me to attach the bottom, top and sides.
The sides are made from Maple and the round metal stair balusters. I began building the sides by cutting the rails and stiles to length. Here's where I could have really benefited from a metal chop saw and dowel jig. Instead I made due with my grinder and drill press.
The stair balusters will be the metal bars for the crate, and I needed to cut three equal lengths from each baluster. With some help from Jocie and a lot of tedious adjustments, we cut the bars and sanded any rough edges.
Next, I measured and drilled 1/2″ holes for the dowel plugs.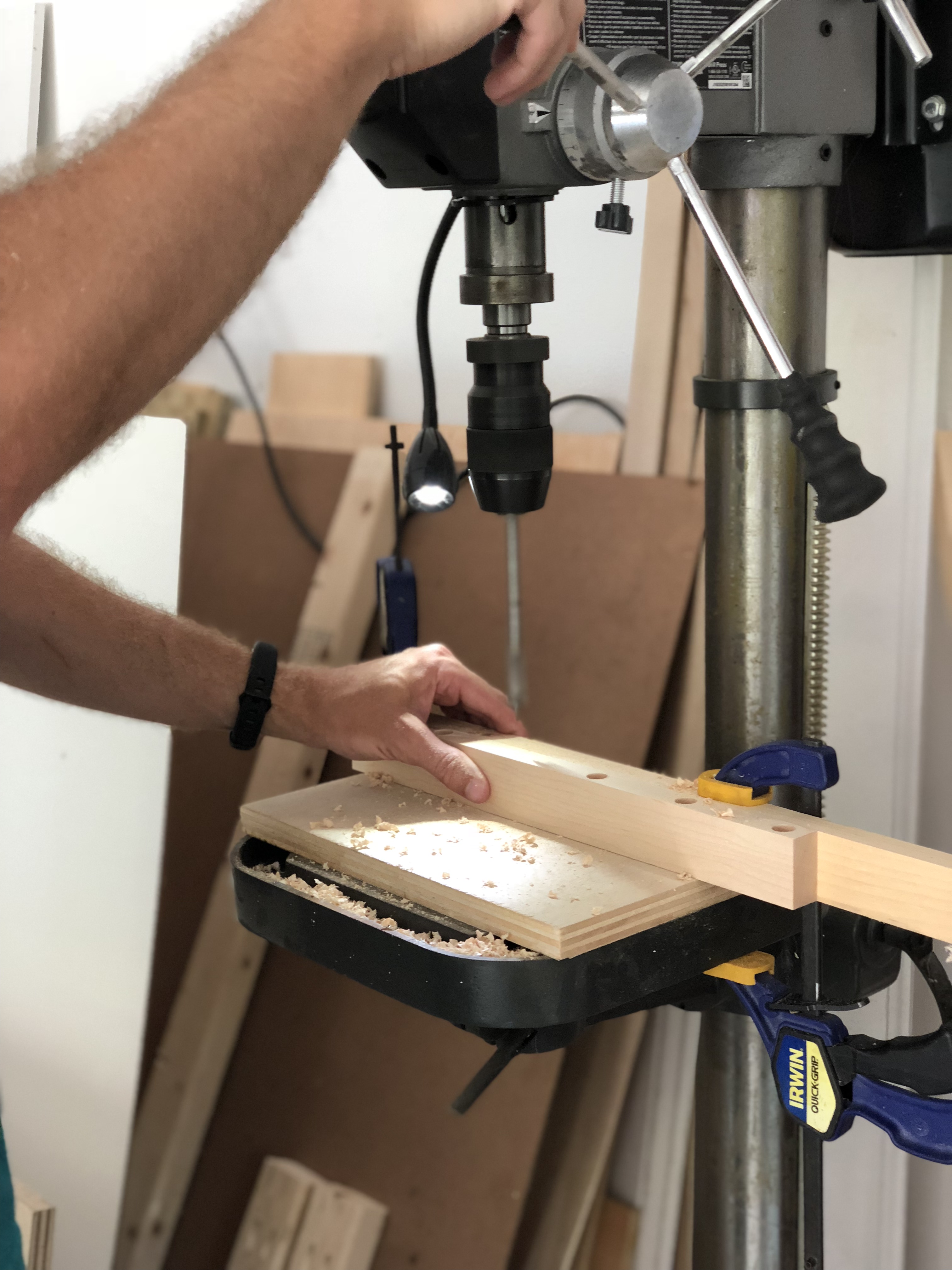 Full disclosure  – Hopper's head is smaller than I expected and he can slip through the bars. I spaced the bars at 2-3/4″ intervals. If you're intending to build this dog crate, consider putting the bars a little closer together for dogs under 6 lbs. I'm hopeful that he will grow big enough that he can't ninja his way out of the dog crate soon.
The 1/2″ dowel plugs are a very tight fit in the 1/2″ holes so I rounded one edge of the plug and smeared a tiny bit of paste wax before pounding them into place.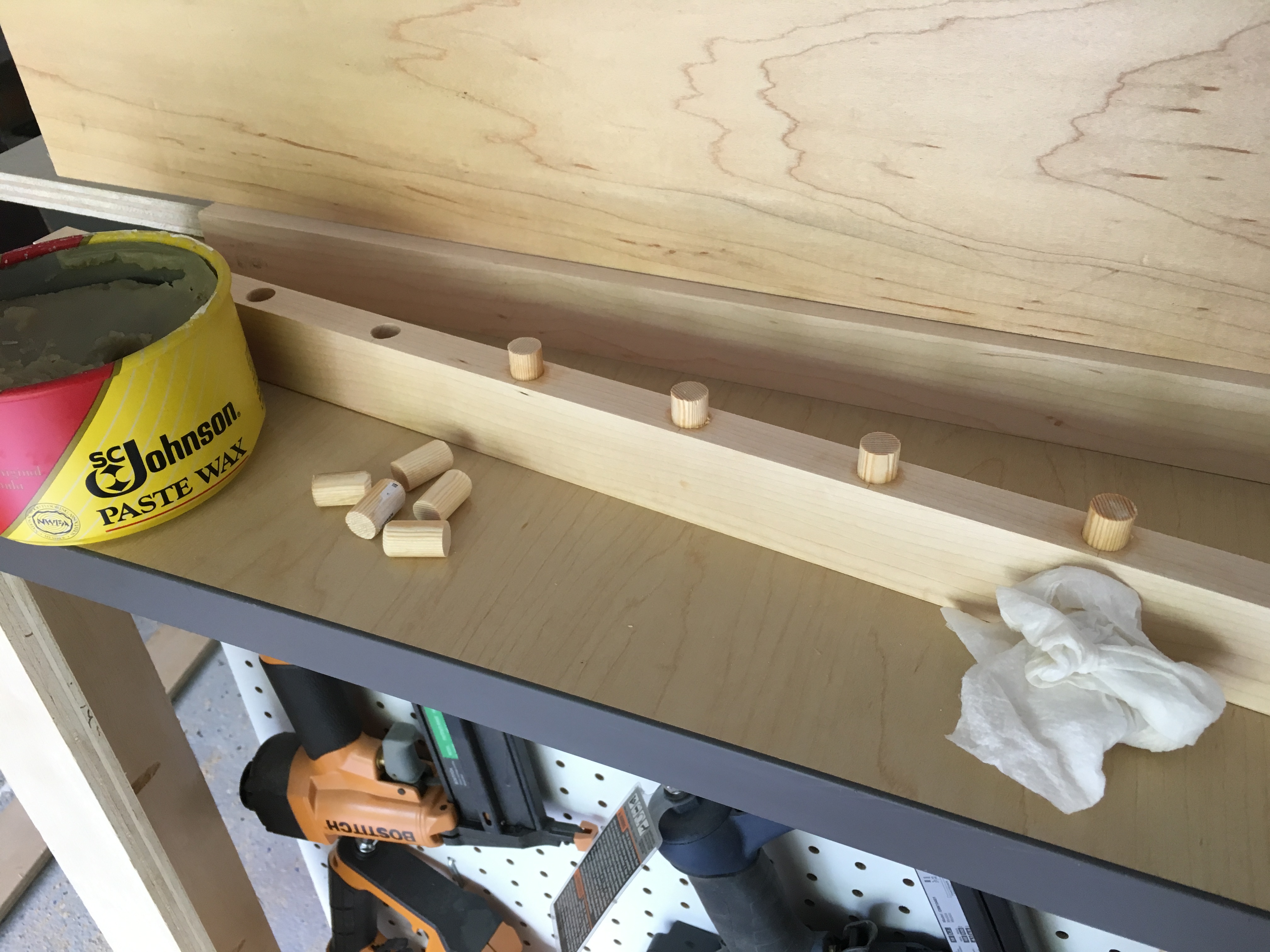 After a quick dry-fit, I assembled the two sides with more pocket holes.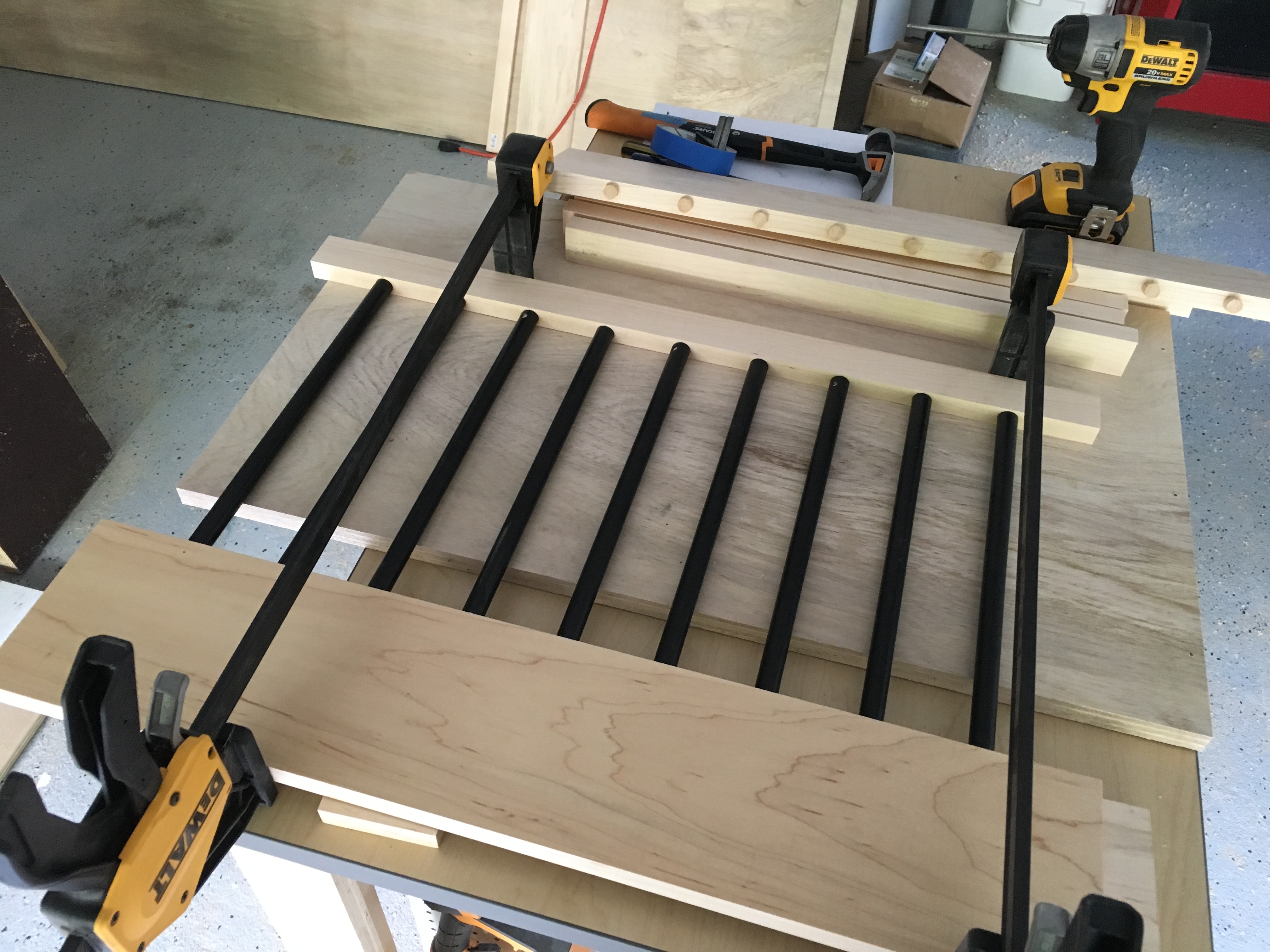 After the sides were assembled, I attached them to the plywood bottom and sides.
One feature on this dog crate is that I wanted a sliding pocket door. This enables us to leave the crate open for Hopper without having a crate door swing out into the room. To achieve this I cut a piece of scrap with tenons on both ends. Next, I cut a corresponding slot for the two slides. The crate door swings upward on the piano hinge and then slides back into the crate, resting on the side pieces.
I used a router and chisel to cut a space into the slide for the hinge.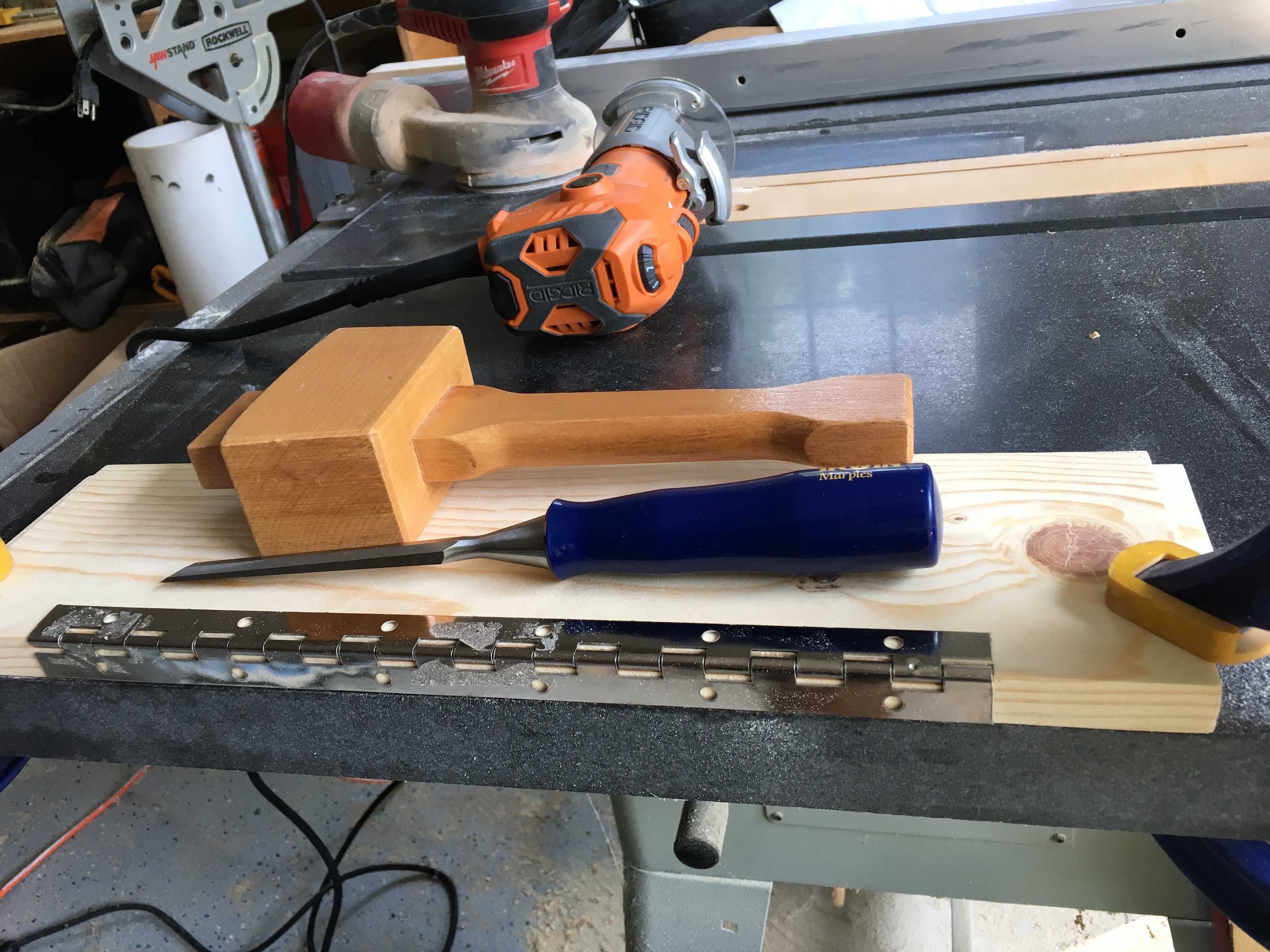 Once I was satisfied with the slides, I built the crate door much just like the sides. I used playing cards to create just the slightest space for the door to move. I also cut a rounded slot for a handhold.
Next, I cut the plywood top to size. There was a bit of back-and-forth because I needed to account for the thickness of the edge banding on three sides, and I needed to cut some clearance for the top of the door to pivot. At this point I also attached the tapered legs. These I simply routed a shallow circle and glued into place.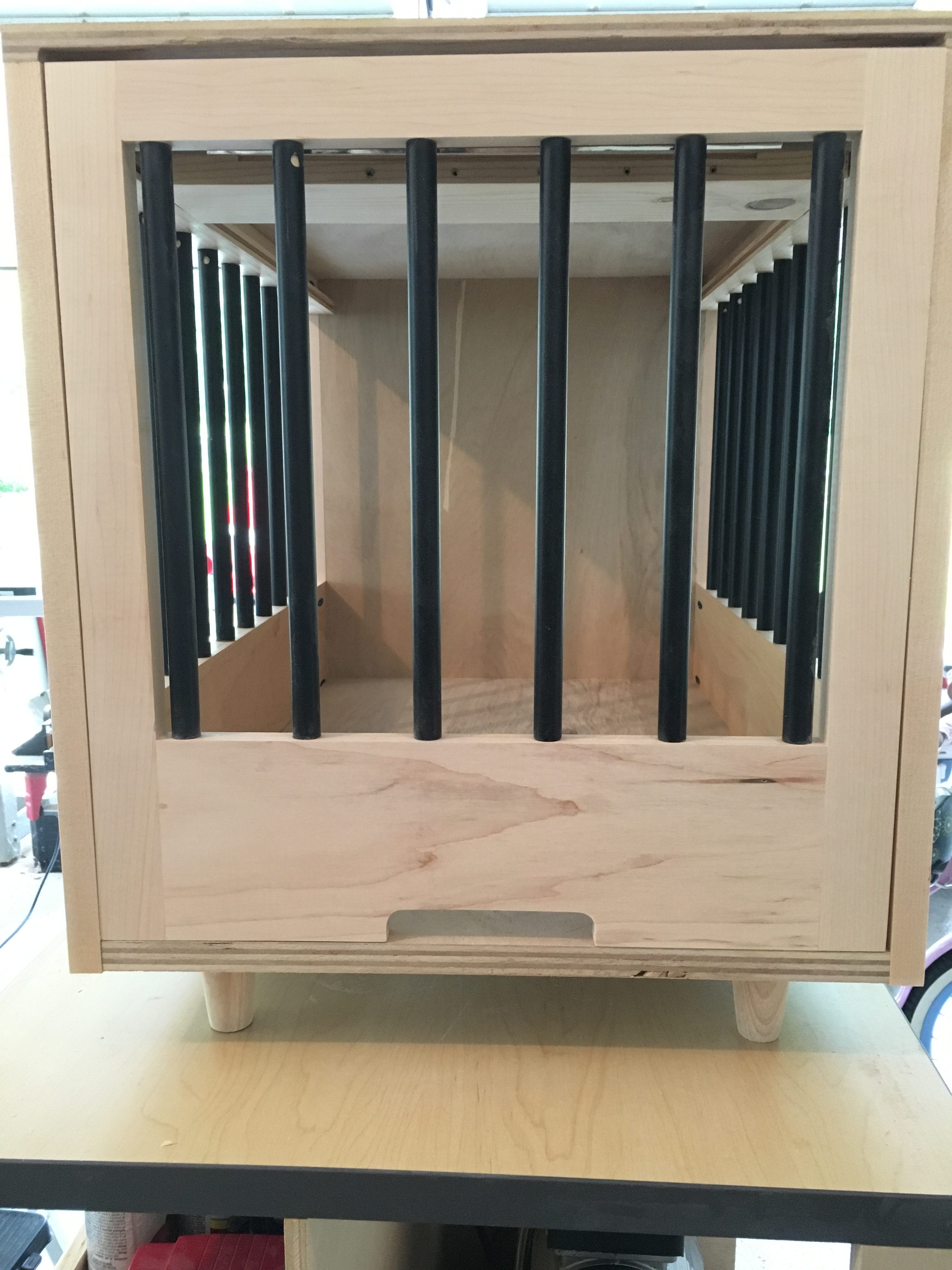 Once I had the top in place and the door able to slide as expected, I ripped some more Maple to create a flair trim piece. This was glued into place around the entire front face. You can see I cut some scrap wood to be able to better clamp everything in place.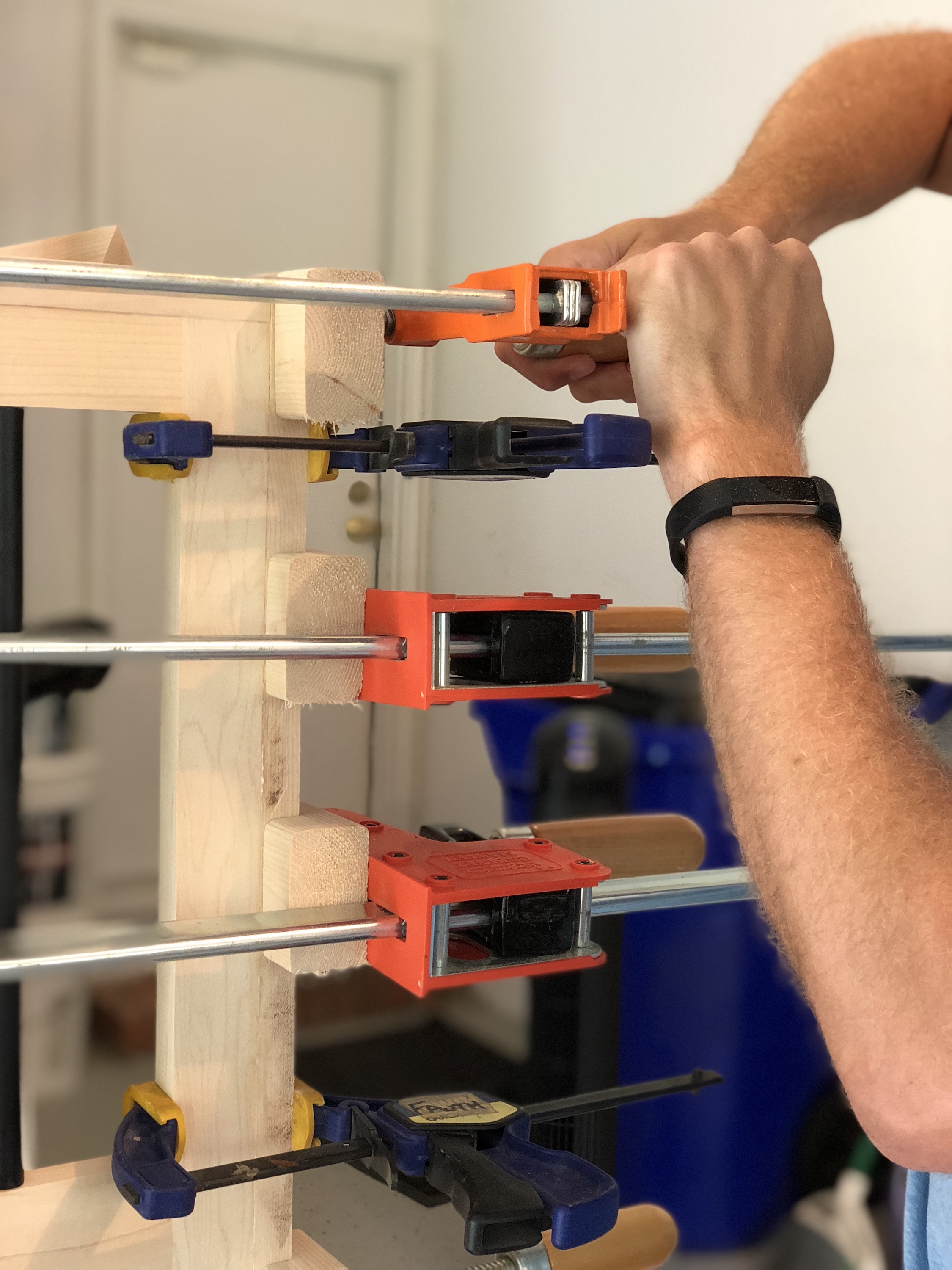 After going through progressively finer sandpaper, the dog crate was ready for stain. Jocie picked a dark walnut, and we applied two coats. Lastly, I sealed the crate with three coats of polyurethane.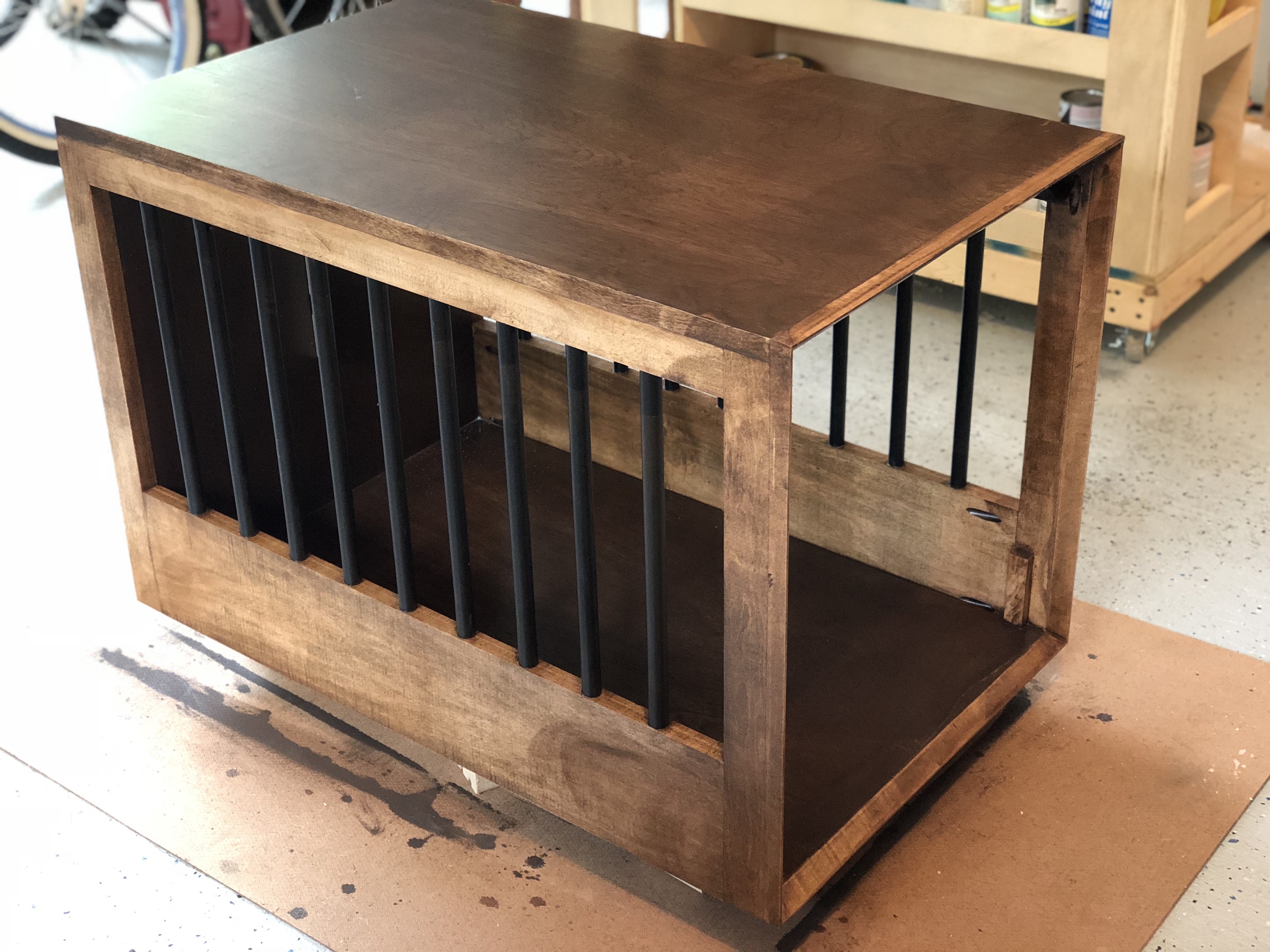 A few days later the poly was dry and the smell had gone. We moved the crate into the house, and I was rewarded when Hopper very quickly crawled into his crate and lay down.
Our shop team members LOVE a great custom project and we sure did appreciate this one. For all your custom wood work needs, call our friendly customer service team at 636-225-7717. We are more than happy to help and we leave the light on.
https://treecourt.com/wp-content/uploads/2019/05/FrontOpen.jpg
759
735
Christina Schellhardt
https://treecourt.com/wp-content/uploads/2019/01/Tree_Court_Builders_logo_horizontal-1-300x124.png
Christina Schellhardt
2019-05-17 09:54:59
2022-05-23 20:55:30
DIY for the Dog Lover In You